Diversity and inclusion
Sub-sections:
Our ambition is to be inclusive in everything we do as outlined in the Government Statistical Service (GSS) People Plan. And to ensure the statistics we produce are reflective of the society we serve. To achieve this we need to attract, retain and nurture talented and skilled people from diverse backgrounds drawing from a variety of experiences.
We aim to maximise the potential of all Government Statistician Group (GSG) members regardless of their sex, gender identity, ethnicity, sexual orientation, disability, faith, age or socio-economic backgrounds.
Our action plan
We will:
expand our employment offering, promoting inclusive entry routes
increase diverse population within the GSG
develop best practice ways of working within the GSG
Our aspirations have links to the work of the wider Government Analysis Function, which supports the Civil Service's analytical professions and other government analysts. We will encourage and promote collaboration with our colleagues and align our work with Government Analysis Function Diversity and Inclusion (D&I) Strategy by following the three pillars of activity.
These are:
attract a diverse range of candidates to working in government analysis
build diverse expertise and talent across the function
create an inclusive function culture for all
We will share updates on our progress via news and blog posts.
Making the GSS more diverse and inclusive
Actions taken to make the GSS more inclusive and to attract a diverse mix of staff:
run annual recruitment campaigns for Level 4 Data Analytics and Level 6 Data Science Degree Apprenticeships
conduct a review of apprenticeships and apprenticeship recruitment
requests for recruitment management information and metrics to include diversity data
introduction of video interviewing to improve accessibility
continued work on our student pipeline which includes the Summer Diversity Internship Programme
greater collaboration across GSS teams to access more management information on diversity and inclusion
extend the Reverse Mentoring scheme to the Analysis Function
embed the D&I Shadow Board into the People Committee – once embedded we will encourage and assist other GSS decision making boards to set up shadow boards
Working group
We set up a GSS Diversity and Inclusion Working Group, following the results of the 2019 Analysis Function Diversity and Inclusion Survey. The working group is made up of volunteers from across the GSS.
The group are working on GSS specific survey analysis to help drive their recommendations. They are also developing a Diversity and Inclusion Action Plan which aligns to the Civil Service Diversity and Inclusion Strategy and Civil Service Diversity and Inclusion Practice Expectations 2020 to 2021.
The GSS People Committee have actioned survey recommendations made in June 2020. The analysis of the 2020 D&I Survey will make further recommendations to be rolled out in 2021.
The group will share best practice across the GSS and the wider Analysis Function. Lived experiences will be shared through blog posts.
Diversity and inclusion champions
We have two D&I champions: Steph Howarth from Welsh Government and Jason Bradbury from the Office for Standards in Education, Children's Services and Skills (Ofsted).
Stephanie Howarth is the Welsh Government's interim Chief Statistician. She joined the GSS in 2005 as a fast stream statistician and has worked in a number of statistical roles across south Wales in the Welsh Government, the United Kingdom Statistics Authority and the Office for National Statistics (ONS).
"I'm incredibly passionate about making the GSS a truly inclusive place to work where everyone can thrive. The statistics we produce are a window on the world – if the GSS better reflects the experiences of everyone so too will our statistics."

Steph Howarth, GSS Diversity and Inclusion Champion
Working with Heads of Profession
In June 2019 Iain Bell, (Deputy National Statistician) hosted a diversity and inclusion panel where attendees shared lived experiences with GSS Heads of Profession (HoPs). The Diversity and Inclusion Working Group plan to hold a similar event, open to a wider audience in 2021.
Pledges
In March 2020 our Careers Team led a session supporting the Civil Service Year of Inclusion. As part of this session, HoPs and other Senior Civil Servants at the session were asked to make diversity and inclusion pledges.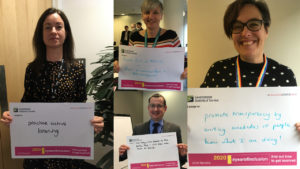 David Blunt (Ministry of Justice and Chair of the People Committee) pledged that he would not only invite people to the party, but also ask them to dance.
Sandra Tudor pledged to promote diversity and inclusion within the Ministry of Housing, Communities and Local Government and to mentor an individual from a BAME background.
Claire Griffiths (Public Health England) pledged to promote transparency by writing week notes so people know what she is doing.
Other HoPs at the session made personal pledges on greeting cards. These are sent back to them after six months to remind them of their personal commitments to diversity and inclusion.
Questions about diversity and inclusion
You can contact the careers team at GSS.Careers@ons.gov.uk to ask any questions about diversity and inclusion.