National Statistician
The National Statistician is the UK Statistics Authority's and the Government's principal adviser on official statistics.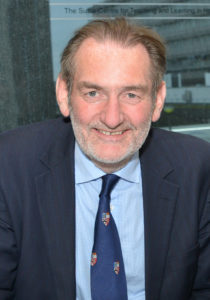 Her Majesty the Queen, on the advice of the Prime Minister, has appointed Professor Sir Ian Diamond as National Statistician. He succeeds John Pullinger, who stepped down on 30 June 2019.
Until Ian takes up his post on a full-time basis on 22 October, Jonathan Athow will continue as interim National Statistician.
Sir Ian's career has spanned many areas of social and official statistics. He recently served as Principal of the University of Aberdeen, and prior to that held the role of Chief Executive of the Economic and Social Research Council. Sir Ian is a Fellow of the British Academy, Royal Society of Edinburgh and the Academy of Social Sciences.
Speaking on his appointment, Sir Ian said:
"The UK's statistical system is one admired world-over and it is an enormous privilege to have been appointed as the UK's National Statistician. I'm looking forward to building on the work of John Pullinger, as we make use of rich new data sources to deliver the data decision-makers across the UK need.
I'm particularly excited to be working with staff across the Government Statistical Service, as we empower our partners in Parliament, academia, business and beyond with trusted and quality data.
As we do so, I will be thinking about how best to enhance the opportunities available for staff across the statistical system, and the inclusivity of our workplaces."
The National Statistician is supported by three deputies:
The Deputy National Statistician for Economic Statistics
The Deputy National Statistician for Data Capability
The Deputy National Statistician for Population and Public Policy
Get the latest updates on the National Statistician blog.
Contact