Analyse this!
The idea to develop the analysis function originally came from the Cabinet Office, from Sir Jeremy Heywood and John Manzoni. They challenged the analyst community to become more visible, and for our analysis to inform decisions on key issues like Brexit and the security of our nation. This is where the idea of using "Better analysis. Better delivery" as the title of the analysis function strategy came from. The mission is to support everyone in government to use analysis to make better decisions, and to ensure policies and operations are delivering value for money and improving lives.
The strategy was launched at the beginning of June and now the work to integrate analysis into all facets of government begins.
The "function" is a collaboration between analytical specialists who deliver research, evidence and advice. This includes Statisticians, Economists, Scientists, Data Scientists, Engineers, Operational Researchers, Social Researchers and Actuaries.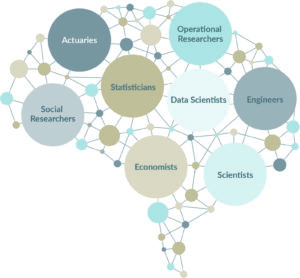 It also aims to integrate the use of analysis, evidence and research into all policy, finance and operational decisions – from HR, operational delivery, finance, policy, commercial, property and digital. This means taking a leadership role to help set analytical standards and upskill in all these areas.
Some characteristics of the analytical professions already resemble a cross government functional approach – the application of the Code of Practice for Statistics, for example. But going forward, the function will own all the overarching standards for analysis across departments, building on the existing analytical guidance and codes, and create a single access point for everyone to easily follow. It will provide a strategic, cross-cutting view on priorities, resources and risks. It will also give analysts a career framework to increase talent and diversity and make the profession more attractive.
It's by setting standards for analysis in both analytical and non-analytical roles across government that the vision of helping people make better decisions will happen.
The formal creation of the Analysis Function means there's agreement to come together, to be greater than the sum of the parts, and to build upon the shared standards and skills of analytical professions.
I am currently recruiting a team to drive this forward and achieve the objectives of the function. The immediate priorities are to further develop the Analysis Function Career Framework (PDF) which was soft launched last month; map out a learning and development programme; and hold cross-departmental workshops on the standards. There is also a lot of work to do around awareness raising and communication. We have the new function, now we have to make sure the right people know about it!
An awareness campaign has kicked off across government to improve engagement with the function. This has included articles on the GSS website and in Civil Service World and a homepage for the function on GOV.UK. All future developments will continue to be shared via numerous communication channels so please keep an eye out!
We're also keen for people to share their views and participate in the development of the function. Its success relies on the collaboration of all professions so please email analysis.function@ons.gov.uk if know of any initiatives in your area or good practice that could help build analytical capability across government.