Do you have any questions?
Have you ever thought about what makes statistics good? Is it taking account of user needs? Publishing accurate figures? Avoiding a letter from OSR?
To be of value we think statistics must address questions people want answers to – this includes government, charities, businesses or individuals – and they need to do this in an accessible way. With this in mind, we have been working across organisations to support greater coherence of published statistics and analysis so that they can support decision making of all kinds.
As part of this work the Office for Statistics Regulation has today published its first OSR Insight report. This new series of reports aims to share lessons from our regulatory work with a wider audience in accessible way. The first report is aimed at producers of statistics and is focused on coherence. It highlights positive examples from across the Government Statistical Service and sets out a framework to support consideration of coherence as statistics and analyses are developed and disseminated.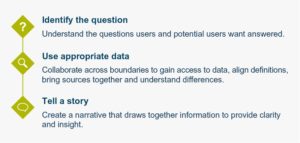 This report complements the GSS Harmonisation Strategy, which aims to improve the consistency of data inputs and the coherence of statistical outputs. The examples of best practice in our report will help analysts to identify how and where they can make these improvements to their statistics.
It's also encouraging to see the work the GSS is doing on coherence being led by Debra Prestwood, Head of GSS Strategy Delivery Division in ONS and Head of Profession for Statistics in ONS. Debra writes:
"In the GSS we are always looking for ways to enhance the public value of statistics and opportunities to collaborate across departments. Our cross GSS work on strengthening housing and planning statistics is a good example of this. We are also currently undertaking a horizon scanning exercise across the GSS to help identify statistical topic areas that might be at risk from a lack of coherence. A Task and Finish group has been created and the work is intended to generate debate about potential risks and help set future coherence priorities. The description of coherence we have adopted for this work is broader than the European Statistical System's narrow definition of coherence. This will help address a common concern from users – that the GSS can sometimes be too focused on a 'collect and count' approach for individual datasets rather than focusing on cross cutting statistics / outputs that try to help answer the questions that society is asking".
By working together, we strongly believe that we can achieve greater coherence across the Government Statistical Service and beyond and we would encourage you to think about who else you can work with to produce more coherent statistics that answer the questions society care about.