How to make the most of the online Code of Practice for Statistics
A few weeks ago, we celebrated the first birthday of the new Code of Practice for Statistics. You may have seen the blog post from John Pullinger, the National Statistician, or the one from Steve Ellerd-Elliott, the statistical Head of Profession at the Department for Work and Pensions. These talked about the new code and how Trustworthiness, Quality and Value has become a mantra for producers of official statistics.
We also celebrated the first birthday of the online Code of Practice for Statistics, the dedicated website for the code. A year after its launch, I thought it might be helpful to summarise its key features and the work we are doing to improve it.
Why use the online code? 
The online code is so much more than a way of accessing the principles and practices or a place to find and download a PDF copy. It contains a range of other information that will help you understand the code and think about how to apply and comply with the practices.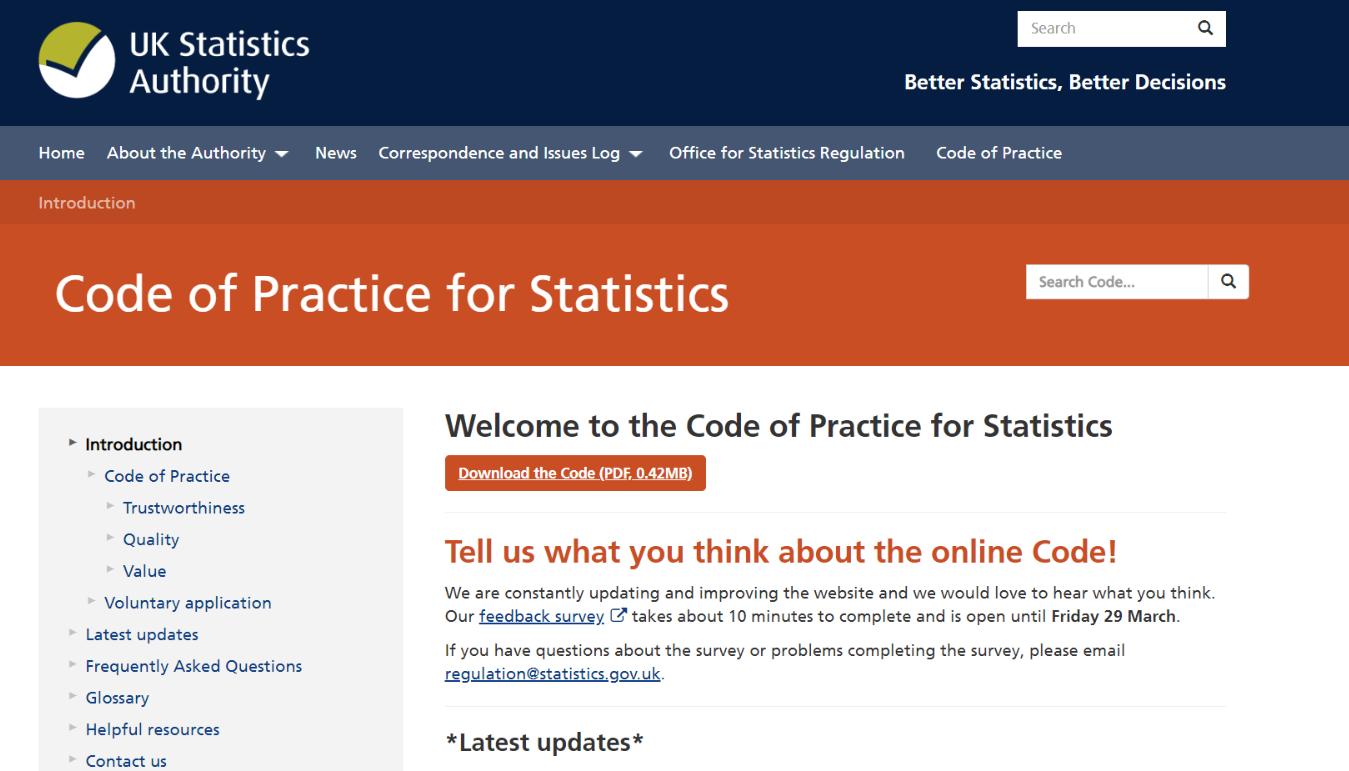 Each principle page contains a helpful resources table with links to relevant guidance. This includes guidance produced by the Office for Statistics Regulation (e.g. guidance on data governance), as well as guidance produced by the Government Statistical Service (GSS) and the Good Practice Team (GPT) (available on the Policy store). For some principles, we have also added guidance from international statistics bodies, such as Eurostat and the United Nations Economics Commission for Europe. We work closely with the GSS and GPT to make sure that all guidance is up-to-date and relevant.
Each principle page also contains case studies. These are examples of good practice, illustrating what compliance with that principle looks like. They might help you think about how you can meet the standards of the code when producing your own statistics. The case studies feature a wide range of official statistics producers.
For example:
the T1: Honesty and Integrity case study explains how the Office of Rail and Road ensures independent production and the managed handling of statistics and data
the Q1: Suitable data sources case study describes how the Scottish Government works effectively with contractors to deliver the Scottish Crime and Justice Survey
the V1: Relevance to users case study outlines how the Northern Ireland Statistics and Research Agency puts users and stakeholders at the centre when producing the Northern Ireland Multiple Deprivation Measures.
We're adding new guidance and case studies all the time. Have a look at our latest updates to see all the new material we've added in the last year.
Extending the reach of the Code of Practice for Statistics
Most users of the online code work in organisations that produce official statistics who are looking for information on compliance with the code. But, the online code also provides helpful information for a range of other groups, for example, those who want to voluntarily apply the code.
As Steve explained in his blog, DWP has embraced voluntary application of the code. We encourage those publishing statistics, data and analysis that are not official statistics to think about voluntarily applying the code pillars of Trustworthiness, Quality and Value. It can help them produce well respected analytical outputs that are high quality and useful for supporting decisions. The online code contains a separate section for voluntary application of the code, with a "Guide to Voluntary Application" and a document with frequently asked questions. It also includes a list of organisations that have voluntarily adopted the code and published their statement of compliance with the pillars.
It's important that everyone in producer organisations recognises that how they handle data or use statistics can affect public confidence in statistics. So we created a helpful resources page for those who work in organisations that produce official statistics, with key information about the code. This page contains a number of one-page summaries of the code – a general one about Understanding the Code (PDF, 0.35MB) and one each for senior leaders, policy staff, communications staff and analysts. These might be helpful when you need to discuss the code.
The online code also considers users of official statistics. We created a helpful resources page for users which contains a table with a list of sources of official statistics and, for expert users, a list of 20 questions to find out whether data they have is right for their needs.
Tell us what you think about the online code
We're constantly updating and improving the online code and we'd love to hear what you think. If you'd like to give us feedback, please complete our short online survey.
The survey should take 10 minutes to complete and is open until 29 March. It's your opportunity to tell us what you like, what you think isn't working well, and to send us suggestions for new content you would like to see, for example, new case studies or guidance.
We're also running several user testing sessions with volunteers from across the GSS, which involve a series of tasks on the online code. Together, the survey and user testing will help us understand how people actually use the online code and to identify where we can make improvements.
If you haven't seen the online code yet, hopefully this blog post has inspired you to take a look!