This item is archived. Information presented here may be out of date.
My journey as an immigrant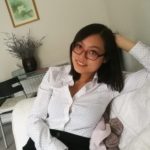 Since starting in Migration and Borders Analysis (MBA), I've had a lot of time to reflect on my own status as an immigrant. At the MBA awayday at the Migration Museum in Lambeth, we were urged to think about migration stories. It surprised me that I've never even considered mine! So, as any good social researcher would do, I conducted some interviews (otherwise known as "asking my mum") and pieced together my family's migration story. I hope you'll allow me to share with you the story of how I came to be in the UK. Are you sitting comfortably?
In 1998, China underwent massive economic restructuring. My dad worked at a bank and knew his prospects of competing on a global market were limited, so he decided to uproot our family home and move abroad in search of a better life. His decision to move had a powerful impact on the family. I was only six months old. My parents had to sell the house to fund the trip, so my mum and I moved back in with her parents. All we could do was wait and see if his gamble would pay off.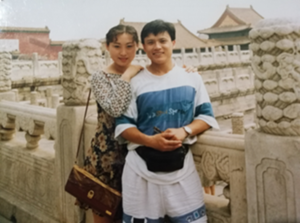 In 2001, as China joined the World Trade Organisation, my dad arrived in the UK with a student visa. Whenever he spoke about his first few years in the UK, he always described it as a blur. You can imagine how difficult it must have been. There were times when he moved from place to place, sometimes living with as many as five other families. His typical weekly shop was potatoes, onions, and rice, with soy sauce being his only luxury because he missed home. My mum and I visited once. I don't remember much from the trip, but I do remember my parents using supermarket trolleys to move to a new place because they were too afraid to spend what little money they had.
Gradually, things got easier. After gaining his accounting qualification, my dad was sponsored for a work visa, so he invited my mum and I to join him in the UK. On 1 April 2004, my family was reunited. Describing it as an eventful journey would be an understatement. It's not easy travelling with a child, my mum had never undertaken such a complicated journey before and didn't speak English. We had also massively over packed. I remember sitting on the floor at Beijing airport, watching my mum and grandma decide whether pillow cases were non-essentials. By the time we landed, my mum was tired and irritable, so it didn't help when the passport control officer made a little April Fool's joke about our visas.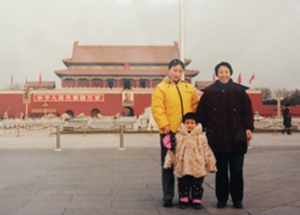 My parents relocated to a flat in South London where I enrolled in a local primary school and started learning English. My mum took me to the library every day and by my second year I was already reading Harry Potter. It was a lot harder for my parents. My mum attended community classes, but if you've ever watched the 1977 sitcom "Mind Your Language", you'll know they're not always very helpful (watch this short clip and you'll understand; my mum swears it's an accurate portrayal). With my newfound ability, I was expected to translate everything from tenancy agreements to official government documents. I saw a BBC article last year on children translating for migrant families. It was an emotional read, but I was so happy these experiences were finally being acknowledged. This meme says all you need to know!
Meanwhile, I was having problems at school. On my first day, I mistook mashed potato for ice cream and ate gravy with a spoon. To save money, my mum would pack me fried rice for lunch, but I was too embarrassed to eat it because everyone else brought sandwiches. And I'll never forget the look on my parents' face when I told them to call me Mary because nobody could pronounce my name. It was a difficult adjustment period for all of us. Eventually, we discovered a vibrant Chinese community who helped us assimilate. We were so grateful there were people who looked and sounded like us who understood what we were going through and could offer help and advice.
A few years later, my parents began applying for naturalisation. This meant preparing for the "Life in the UK test", 24 questions that supposedly proved sufficient knowledge of British life and English proficiency. It included  questions like "who built the Tower of London?" and "when is St. David's Day?". Out of curiosity, I tried the test as I wrote this blog and passed, so see if you can also prove yourself a worthy British citizen by taking a mock test! On the day of the test, there were lots of people who didn't pass, but my parents did. We breathed a sigh of relief and went straight to a Chinese restaurant to commemorate our Britishness.
Fast forward a few years and my family are where we are now, and we are very thankful for everyone we've met along the way who have been tolerant and kind. My dad is a finance manager at a shipping company and my mum is a Chinese teacher at a prestigious private school. As for me, I enjoy British food and observe British customs, and despite my mum's best efforts, English is practically my mother tongue. At the same time, I've never felt more proud or connected with my identity as a Chinese immigrant. I was lucky enough to have been part of a family who could journey safely and legally. Countless others don't have that privilege, which is why I'm inspired to do everything I can as an analyst to influence policy at the Home Office.
I am incredibly grateful to anyone who has been patient enough to read this far.
This blog post is part of the #yearofinclusion. Please fill in the related Analysis Function Diversity and Inclusion Survey.