This item is archived. Information presented here may be out of date.
The Good Practice Team and beyond: Seven themes and a wealth of opportunities!
I have recently joined the Good Practice Team (GPT) at the Office for National Statistics after re-locating from the Welsh Government. I want to share my experiences so far about the work that our team is currently doing across the Government Statistical Service (GSS).
Many of you will be aware of the training courses that GPT offer. For me, they have been a staple part of my learning and development, and a great way of upping my professional development hours each year whilst meeting colleagues from across government.
However, this is just the beginning of what we do! We also support producers of statistics across the GSS through mentoring, consultancy and guidance on the production, dissemination and use of official statistics. As a small team, we support the GSS community of some 7,000 statistical producers, as well as delivering training for other analytical and policy colleagues across government. It's safe to say there's never a dull moment!
GPT is part of the ONS Best Practice and Impact Division (BPI), alongside the Quality Centre, Harmonisation Team and Methodology Advisory Service.  Our chief focus is to support the GSS to improve government statistics under the following seven themes:
Set strategic direction across the GSS
Build capability in the GSS through training courses and workshops
Provide a consultancy function for the GSS
Share best practice across the GSS
Create tools, guidance and standards for the GSS to use
Foster a one GSS voice to the outside world and develop the GSS community
Operate a compliance function across the GSS to understand where improvements are needed
I've only been in the team for the last eight weeks, but very quickly I've realised the sheer scale of work that is on offer to me here! Here's just a few of the opportunities I've had so far.
Peer review workshops
The organisation of peer review workshops has been one of the first things I've got involved in. We run regular peer review workshops which draw on experience and expertise from both within and outside the GSS to provide independent feedback to producers on how to improve their publications. Sessions usually take place without the authors present and aim to provide constructive, helpful feedback on presentation, quality and harmonisation.
Last week, I had the chance to run one of these sessions and it has been so rewarding! I was reminded of just how much we need to have our users at the forefront of our minds when producing our outputs and it was great to work with a group of motivated volunteers with a diverse range of perspectives.
Past feedback on our peer review workshops has been very positive, so if you would like some help from us, please get in touch with us at gsshelp@statistics.gov.uk. You won't be disappointed!
Presentation and Dissemination Committee (PDC)
The work I've seen so far of the PDC and its subgroups has shown me the scale of what happens across government to improve our statistics and the passion its members have to deliver changes for the better.
The main PDC committee is made of representatives from around 15 departments who meet on a quarterly basis. Each member represents and feeds back to a network of other departments, and this means the committee can reach out across the whole GSS.
Do you know who your champion or PDC representative is? You can find out more on the PDC page along with each sub-group's terms of reference.
I have been lucky enough to become a secretariat of the PDC and will be attending my first quarterly meeting next week. It's a really exciting time right now, as we are in the process of formulating a new workplan and setting priorities for 2019 and 2020. I'm looking forward to getting to know you all!
One GSS voice
A large part of my time so far has been spent getting to grips with being part of the website editorial team. The website has a whole host of useful information on training, guidance, policies as well as upcoming events and job vacancies and is definitely worth having a look.
I've learnt that shorter is always better when uploading content to the website. Unnecessary text makes everyone work harder to understand what you're trying to say and they are less likely to remember your content!
I've found that frontloading text is a great way to help users find and understand the information they need. This is a writing technique in which the most important, 'big-picture' information is provided first, followed by additional details.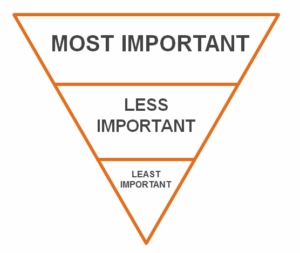 There is some really useful information on writing for the web in the ONS style guide.
If you want to get some information onto the GSS website get in touch with gssnet@statistics.gov.uk and remember to complete the content request form.
As part of the vision to foster one voice for the GSS community , we use a number of communication channels. As well as the GSS website, we have:
GSS newsletter – you can subscribe for the monthly GSS newsletter if you haven't done so already.
The GSS Slack channel is a network for GSS members to discuss professional and statistical topics of interest.
The GSS Twitter feed @UKGSS provides updates on events and training and is used to share news and blogs from government.
Get in touch!
It's been fantastic to work in such a welcoming, motivated and knowledgeable team. It's so rewarding to see the demand and enthusiasm for what the Good Practice Team offer and I'm looking forward to the wealth of opportunities that this new role brings.
Is there something you want to get involved in? Perhaps you want to volunteer in an upcoming peer review workshop or attend one of our training courses? Email gsshelp@statistics.gov.uk and get started today!