The GSS Conference venue team talk food
The countdown is well and truly on for the GSS conference 2019 in Edinburgh. The Venue team of the GSS conference committee visited the Sheraton Grand Hotel for a second time in June to decide on the delicious courses that will be served at the conference dinner. This year's conference venue is a lovely hotel with superb chefs and staff. To keep things simple due to the volume of delegates there will be a set menu plus a vegetarian option. We are able to adapt the menu for delegates with special dietary requirements, and in the coming weeks delegates will receive a form with space to provide this information. Continue reading for a taster of the conference…
Starter
We tried an extremely delicious Haggis Cannelloni which was full of colours flavours and textures. We also tried the vegetarian option which was a super-tasty Sweet Potato and Chickpea Parcel.
Main
On to the main event! We tried an absolutely mouth-watering beef dish which everyone on the venue team loved. We also tried a very tasty salmon plate, but it was out-voted as the main choice. For the vegetarian/vegan option we are seeking advice from the herbivores on the committee, so this is TBC.
Dessert
Finally, the highlight of the Venue team's day, we tried two delicious desserts: a vegan brownie and a lemon meringue. Both were exquisite and we were fighting over the last piece.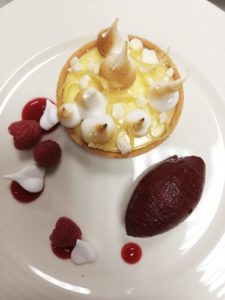 The hotel is based centrally in a very beautiful part of the world. We are also planning to add some Scottish touches to the evening event. In summary, there is some delicious food on the menu in an absolutely stunning venue!