Two weeks with the GPT – statistics on Gov.UK in 2016
So having a break from audit earlier this year, I spent two weeks with the Good Practice Team, part of the Government Statistical Service.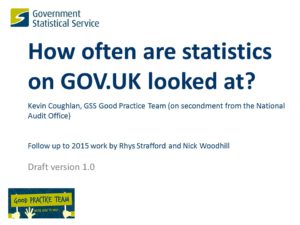 As someone who has a passing interest in web design, the area I'd chosen to research was in website analytics.
This involved two main pieces of work
Looking at the GSS website and seeing where the web traffic was coming from and going to, in order to feed into a larger consultation of a website refresh
Looking at GOV.UK statistics pages to see what kind of statistical content was popular and aiming to find out if people were able to access the content they want.
Having no experience in this field before (bar a 1 hour meeting with external relations at the National Audit Office!) I was thrown in at the deep end on day 1 and spent time getting to grips with Google Analytics. The GSS website turned out to be a good training set, with approximately 100,000 visitors per year – with findings that will hopefully improve the GSS website in its next iteration.
From here, I spent some time working on the bigger set that was GOV.UK – with 80m hits per year.
This set brought up some things to consider:
– looking at 'statistical' pages only vs whole of GOV.UK
– the curse of sampling – for larger data sets, when working with aggregate data – this meant for some metrics only 0.5% of the actual data was being included, making the results of limited value
Nonetheless the page views data did show that the main trends from 2015 to 2016 haven't changed – with the top 4 departmental areas remaining the same – Education, Local Government, Energy and Justice.
Other metrics proved to be tricky – average time per page for example, was expectantly short, as users were only coming in and downloading mostly PDF files..
There's certainly more work done to be going forward around integrating more Official Statistics and possibly looking at more metrics, as well as understanding the sampling better and how it affects the results.
Overall, the secondment has definitely increased my commercial awareness and made me aware of just how important website design is.In two weeks I only just scratched the surface. Out in the real world companies can have teams of people pouring over these statistics everyday, creating user stories (of how they expect people to flow through the website) and setting up A|B tests.
I'm hoping that some of the knowledge I learnt can now be brought back to the NAO and may even feed into a wider discussion around a website refresh here!