This item is archived. Information presented here may be out of date.
What I hope to gain from reverse mentoring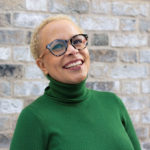 Edisa Livingstone shares her thoughts on reverse mentoring.
What do you hope to gain from reverse mentoring?
Lots of things – but one of the main benefits at this stage in my fast stream journey is to get career advice in a relaxed, informal environment outside my immediate management chain. It is a fact that those from diverse backgrounds are under-represented in senior leadership roles, and I passionately believe we all need to do our part to address the issue.
If analyst colleagues are not getting the learning opportunities they need, or enough positive influences from within their day-to-day roles, a cross-government initiative like the Government Statistician Group Reverse Mentoring Scheme can help inspire and support them.
How have senior leaders helped you so far in your Civil Service journey?
I have really benefited from the Fast Stream, as it has given me a new way of seeing and greater access to senior statisticians. Also, going from department to department, and even outside government on secondment, gives you a much better perspective on what good leadership looks like.
On the scheme, we are encouraged to talk to senior analysts about our future goals, network, and learn more about the variety of roles available within our professions. No placement is complete without a coffee and a chat with the Head of Profession!
It would be great to empower all analysts, in all grades, to gain insights from those operating at different levels. I'm in my third year but very proud to still be learning how to be a better leader.
What do you see as the main benefit of reverse mentoring for senior leaders?
It is a two-way street, for example there is great potential in understanding how an HR policy or a performance management system works in practice. Reverse mentoring is another way for leaders to understand what pressures more junior colleagues may be under, and what has changed since they began their career, for instance.
The fundamental thing to me is if the mentoring relationship is built on trust and honesty, it will be 100% well worth their time.