Professional career framework for GSG members
This page explains the job grades members of the Government Statistician Group (GSG) can progress through during a career as a government statistician or data scientist, and how they will be assessed.  It also gives tips on how to develop skills.
Assessment frameworks
Entry, and progression through, the GSG job grades is done by assessment against the GSG competency framework and the Civil Service success profiles.
Success profiles are the new recruitment framework used within the Civil Service. There will be a transitional period during which the success profiles will run alongside the existing Civil Service competency framework.
Diagram of career progression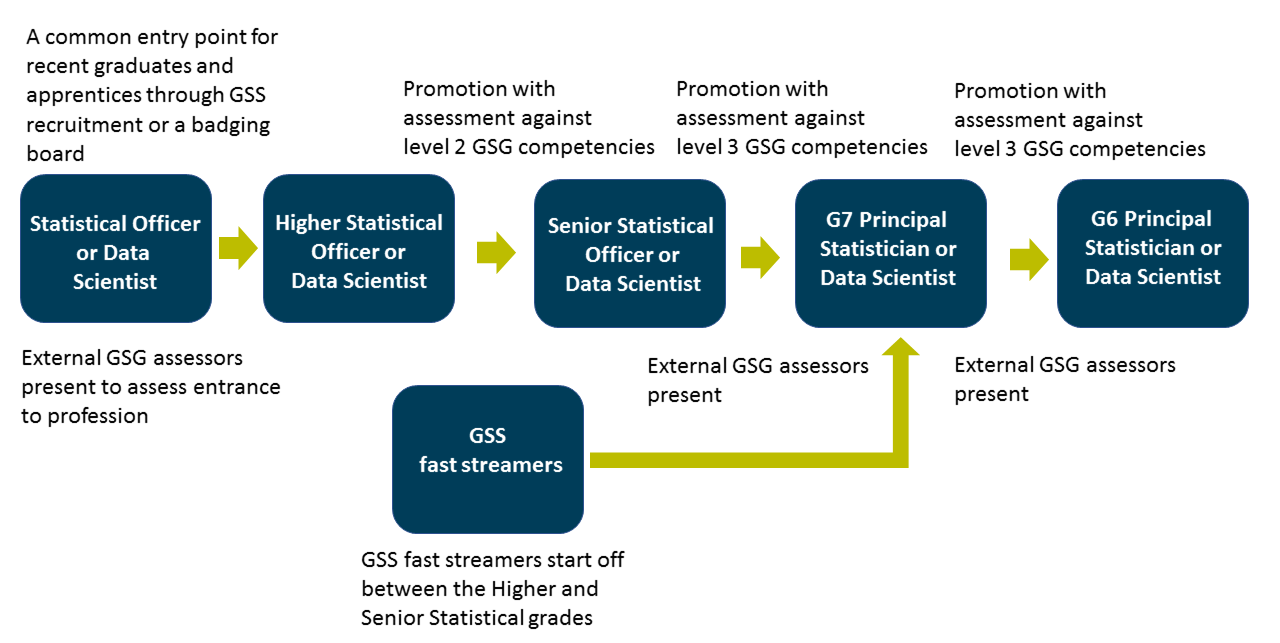 GSG grade descriptions
Development opportunities
In order to progress you need to make sure you are developing. Here are some ideas:
Check out the learning and development area
Opportunities to develop your skills can be found on the learning and development area.
You can find information on training courses and the Analytical and non-analytical learning pathways that match training to the job grades outlined above.
You should keep track of all your learning and training in a Continuous Professional Development (CPD) logbook.
Consider loan and secondment opportunities
If there are specific skills you wish to learn in a working environment you might also want to consider a loan or secondment.
Short term placements in voluntary sector organisations might also appeal to you. These can be arranged via the Analytical Volunteer Programme.
Think about a lateral move
A lateral move happens when an individual moves to a different role at the same grade.
They are recommended to gain a breadth of skills and exposure to different working environments.
You can move laterally to:
a statistical or data science role within the same department or a different department
a non-statistical or non-data science role within same department or a different department
a statistical or data science role in an external organisation
Moving to non-statistical or non-data science roles help develop general civil service competencies and provide valuable insight into use of statistics by non-statistical teams.
Moving to statistical or data science roles in external organisations can provide valuable insight into how different organisations work and how they use statistics.
If you're interested in any of these opportunities, contact gss.careers@ons.gov.uk.