23rd GSS Methodology Symposium
Date

18th July 2018 10:00 am to 5:00 pm

Venue

Westminster Conference Centre, 1 Victoria Street, London
Message from Charles Lound, Symposium Organiser, 20 July 2018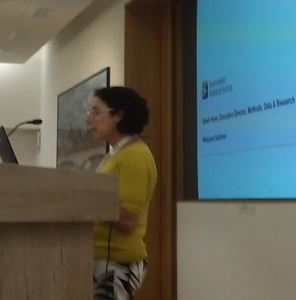 I would like to say a big thank you to all who came to the GSS Methodology Symposium on Wednesday. I think the feeling was best summarised by Sarah Henry who said the event was "full of energy" and that energy was generated by the keynotes, presenters, session chairs, exhibitors and the audience.
Sarah set the tone herself with a quick run through her first year as the Executive Director of Methods Data and Research. She talked about how we have risen to John Pullinger's challenge last year to "step on the gas", giving examples anticipating the parallel sessions in the symposium.
In his keynote talk, David Hand spoke about the acceleration in statistical innovation driven by automatic data capture, better technology and analytical tools emerging from diverse disciplines (but all really "statistics"). He advised careful consideration of the properties of the data and design of indicators that properly reflect changes in society and the economy and not just the data generation – both of which will need to draw on strong statistical from across the GSS.
In the afternoon, David Fry showcased innovation in BEIS, driven by the need to drive forward the UK's Industrial Strategy. He described the department's data science strategy and their work on a longitudinal IDBR to identify high-growth firms and two data analytical methods for identifying clusters of firms in different sectors. These fed directly into operational and policy use.
As an organiser, I was most excited (and somewhat relieved) to have more than enough offers of presentations for the parallel sessions that met our request for examples of unlocking value of data, improved methods of analysis and data collection; from small projects and large programmes and demonstrating impact. On the day the presenters really stepped up and the rooms were buzzing with discussion. I'm particularly grateful to the session chairs who enthusiastically volunteered for the role and supported the presenters, and to a couple of people who covered for presenters at short notice!
And finally, a big thanks to the GSSM23 team: Karen Wilson, Johanne Merriman and Nicola Lane for keeping the preparation on track and supporting the event on the day.
So that's my immediate reflections. But what did you think? Send your feedback using this survey questionnaire: https://www.smartsurvey.co.uk/s/GSSM23Feedback/
Best wishes, Charles
—————————————————————————-
Better Statistics, Better Decisions through Innovation
The programme for the Symposium is available here. We will be publishing presentations and notes on this page in due course.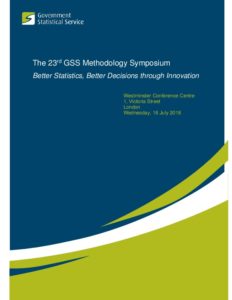 The 23rd GSS Methodology Symposium took place on Wednesday 18 July 2018 at the Westminster Conference Centre, 1 Victoria Street, London.
In its Innovative perspective, the Strategy for UK Statistics challenged us to deliver measurable benefits from continuous improvement and a spirit of curiosity. We should anticipate new opportunities and respond to unmet statistical needs using innovative, effective and efficient methods.
As the Strategy passes its half way mark, we shared work from across the GSS at the GSS Methodology Symposium, reflecting on progress so far. This included unlocking value through better use of data, improving the statistical methods we use, or rethinking our data collection methods. Some were part of a larger programme of development, or were an agile response to an urgent requirement.
For papers and presentations from earlier years, see related GSS Methodology Symposium posts on the right.
Feel free to contact me on methodology@ons.gov.uk
Charles Lound, GSS Good Practice Team