GSS Conference 2018
Date

From 2nd October 2018 to 3rd October 2018

Venue

Mercure Manchester Piccadilly Hotel, Portland St , Manchester , M1 4PH
    
Better Statistics, Better Decisions: 50 Years of Excellence
This year's GSS conference will take place on 2nd and 3rd October 2018 in Manchester. This is an exciting opportunity to celebrate 50 years of the Government Statistical Service; to meet with other statisticians and data scientists working across organisations; to share ideas and examples of excellence in the field of evidence-based decision making.
In this anniversary year we encourage you all to attend to celebrate everything the GSS has achieved over the past 50 years and gain an insight into where we are heading in the future.
John Pullinger, National Statistician, who spoke at the 2017 conference says:
"This year's conference is building up to be a truly outstanding one. It marks the 50th anniversary of the Government Statistical Service (GSS). Those 50 years span enormous change and advancement of statistics and their use. I hope to see many of you there."
Welcome to the GSS Conference 2018 hub. As the co-chairs of this year's organising committee, we're honoured to be creating a conference which we hope will celebrate the best of the last 50 years of the GSS and looking forward to the next 50! Government statistics have gone through several stages of evolution, each time refining the way we impact on society through better policy decisions. Our methodological improvement has enabled us to provide analysis to complex questions.
We've improved our data transparency and moved towards open source software to allow greater clarity on our decision making. We've learnt better how to collaborate to drive efficiency and effectiveness. We hope that this conference encourages you to continue to drive forward and go for gold in your departments through learning and connecting together. See you in Manchester!
Alix and Sophie
The Delegates team will be working with Heads of Profession over March/April to finalise delegate allocations. The number of places available has increased slightly this year, so we are aiming for each department to get at least the same amount of spaces as last year, if not more. This year we are also ensuring that HoPs take into account data scientists, as they have often missed out in previous years.
Keep an eye out for an email from your HoPs over the next two months regarding applying for a delegate space!
The 2018 Conference theme is
"Advancement in analytical methodology, supporting transparency and collaboration".
The abstracts deadline has now passed and submissions are being reviewed. If you submitted an abstract, you will hear from our abstracts team shortly.
Conference Agenda
Day 1 (9:30am–4:30pm)
9:30-10:15am
Registration
10:15-10:30am
Welcome and Opening Remarks
10:30-11:30am
Keynote Speaker – Will Moy, Full Fact
11:30-11:45am
Break (incl. networking/exhibition stands/posters)
11:45am-12:45pm
Parallel Session 1
12:45-2:15pm
Lunch (incl. networking/exhibition stands/posters)
2:15-3:15pm
Parallel Session 2
3:15-3:30pm
Break (incl. networking/exhibition stands/posters)
3:30-4:30pm
Panel Session – John Pullinger, Jil Matheson, Karen Dunnell, Siobhan Carey, Rob Cuffe, Will Moy and Síle Lane
Day 1 (Evening)
6:00-6:45pm
Drinks Reception
6:45-7:00pm
John Pullinger Address
7:00pm onwards
Evening Dinner
Day 2 (9:30am–4:15pm)
9:30-10:00am
Arrive
10:00-11:00am
Keynote Speaker – Siobhan Carey, NISRA
11:00-11:15am
Break (incl. networking/exhibition stands/posters)
11:15am-12:15pm
Parallel Session 3
12:15-1:45pm
Lunch (incl. networking/exhibition stands/posters)
1:45-2:45pm
Parallel Session 4
2:45-3:00pm
Break (incl. networking/exhibition stands/posters)
3:00-4:00pm
Keynote Speaker – Sile Lane, Sense about Science
4:00-4:15pm
Closing Remarks
For more information…
Keep an eye on this page and the GSS Conference 2018 blog for information on the keynote speakers, parallel sessions, the agenda and all things conference related!
Meet the organising committee
The organising committee is made up of volunteers from across government, you can find out a little more about everyone here.
Name: Sophie Stewart
Role on the committee: Chair
Organisation: Education and Skills Funding Agency
Location: Sheffield
Interesting fact: I recently took over the captaincy of a netball team and last season we came 7th out of 8 instead of 8th out of 8…
Hobbies: Organising statistical conferences, obviously
Favourite film: Pitch Perfect
Favourite TV show: Breaking Bad
Favourite sports team: My netball team! #ComeOnYouWolves
Aim for the committee: For everyone to make a new working relationship or friendship
One word to summarise your aim for the conference: Outstanding
Name: Alix Crabtree
Role on the committee: Chair
Organisation: NHS Digital (on secondment from HMRC)
Location: Leeds
One word: Fab
Interesting fact: I used to be a figure skater – I can still twirl and jump on the ice!
Favourite TV show: Strike
Personal Mantra: Prosecco fixes everything
Aim for the committee: For all to say 'we did it!' at the end of the conference and feel proud of the achievement.
One word to summarise your aim for the conference: Game-changing
Name: Sarah Lewis
Role on the committee: Venue
Organisation: NHS Digital
Location: Leeds
Interesting fact: I enjoy travelling places by train. I once went from Sheffield – Venice by train, it took nearly 2 days!
Hobbies: Pilates
Favourite film: The Greatest Showman
Favourite book: The Seven Sisters
Favourite TV show: Stranger Things
Favourite pastimes: Looking at holidays abroad currently!
One word to summarise your aim for the conference: Impressive
Name: Samuel Harris
Role on the committee: Venue
Organisation: HMRC, KAI personal taxes
Location: London
Interesting fact: Been to the North Korean border
Hobbies: Running
Favourite film: The Raid
Favourite TV show: Family Guy
Name: Miles Flitton
Role on the committee: Venue
Organisation: DfE
Location: Nottingham
Interesting fact: Me and Sean Maguire (Delegates team) are in the same park (I can't back this claim up)
Claim to fame: Once was in the same park as Sean Maguire (I'll stop now)
Hobbies: Gym, reading, chocolate
Favourite film: The Shawshank Redemption
Favourite book: When Breath Becomes Air
Favourite pastimes: Being lazy
Favourite sports team: Leicester City
Favourite sporting moment: Do you even need to ask? Champions 15/16!
Aim for the committee: Enjoy it!
One word to summarise your aim for the conference: Memorable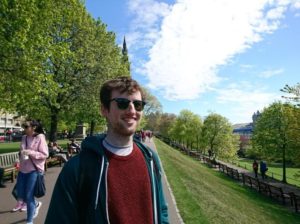 Name: Sean Maguire
Role on the committee: Delegates
Organisation: Department of Health & Social Care
Location: London
Interesting fact: I follow Miles Flitton (Venue team) about and visit the same parks as him
Hobbies: Baking, Squash
Favourite TV show: Twin Peaks
One word to summarise your aim for the conference: Fun
Name: Avision Ho
Role on the committee: Delegates
Organisation: DfE
Location: London
One word: Smörgåsbord
Interesting fact: Came joint first at DfE Strictly Come Dancing with a salsa routine.
Hobbies: Baking, reading, coding
Favourite film: Walking Past the Future by Li Ruijun
Favourite pastimes: Video games
Favourite sports team: Manchester United
Favourite sporting moment: Seeing Andy Murray breaking down in front of the cameras after losing the Wimbledon final. He proceeded to win it the following year. I'm not a sadist though! I just liked seeing world class athletes like Andy Murray show their human side.
Little known fact: If you don't mind the plug, I've got an Instagram account of all my baking. You can find it via the handle HungerOnTheCulinaryExpress
Personal Mantra: No clichés please!
Aim for the committee: Avoid messing up such that we make the conference a total farce!
One word to summarise your aim for the conference: Share
Name: Francesca Allerton
Role on the committee: Delegates
Organisation: Home Office
Location: Croydon
One word: Superfluous
Claim to fame: Friends with people who have been on Robot Wars
Hobbies: reading, playing squash, eating too many biscuits
Favourite TV show: Firefly
Little known fact: The "average person eats 3 spiders a year" factoid is actually just a statistical error. The average person eats 0 spiders per year. Spiders Georg, who lives in a cave & eats over 10,000 each day, is an outlier and should not have been counted.
Aim for the committee: Organise a great conference that caters to everyone's needs and interests
One word to summarise your aim for the conference: Connect
Name: Richmond Davies
Role on the committee: Sponsorship
Organisation: NHS National Services Scotland
Location: Edinburgh
One word: Indeed
Hobbies: Tennis
Favourite film: Pulp Fiction
Favourite book: The Theory of Communicative Action
Favourite TV show: Fawlty Towers
Favourite sports team: Motherwell Football Club
Favourite sporting moment: Federer at the 2018 Australian Open
Personal Mantra: Illegitimi non carborundum
Aim for the committee: To deliver the best GSS conference ever
One word to summarise your aim for the conference: Success
Name: Pooja Ramnarain
Role on the committee: Sponsorship
Organisation:  MoD
Location: London
Name: Francesca Parrott
Role on the committee: Communications
Organisation: Defra
Location: York
One word: Chatty
Interesting fact: I once sat on the crater of Mt Doom
Claim to fame: Went to school with the guy who played Neville Longbottom
Hobbies: Travelling, hiking and a new found love for DIY home improvements…
Favourite film: When Harry Met Sally
Favourite book: Pride & Prejudice
Favourite TV show: Friends (always and forever)
Favourite pastimes: Good food, good wine and good conversation
Favourite sports team: Leeds Rhinos
Favourite sporting moment: That one time I managed to hit the ball during a rounders game
Personal Mantra: Always say yes and figure it out later
Aim for the committee: To have fun
One word to summarise your aim for the conference: Inspiring
Name: Nicole Scully
Role on the committee: Communications
Organisation: Welsh Government
Location: Cardiff
Hobbies: Arts and crafts, gym, baking
Favourite film: The king's speech
Favourite book: The girl with the dragon tattoo
Favourite TV show: changes daily, currently suits!
Favourite pastimes: Wedding planning – it takes a lot of time!
Favourite sporting moment: Ireland winning the grand slam, 2018
Personal Mantra: Live life to the fullest!
Aim for the committee: Be part of a successful conference
Name: Michael Cole
Role on the committee: Parallel sessions
Organisation: DWP
Location: Newcastle
One word: Perhaps
Claim to fame: I live next door to an England cricketer
Hobbies: Cycling, weights, gaming
Favourite film: Jurassic Park
Favourite book: The Graduate
Favourite show: X files
Favourite sports team: Toon Army
Favourite sporting moment: last day of the 2012 Premier League season
Personal mantra: What's next?
Aim for the committee: To create the most diverse and inclusive GSS conference to date
One word to summarise your aim for the conference: Collaboration
Name: Jennifer Snape
Role on the committee: Parallel sessions
Organisation: BEIS
Location: London
Interesting fact: I presented a parallel session at the 2017 GSS conference!
Hobbies: Gym, Yoga, Running
Favourite film: Trainspotting
Favourite TV show: Line of Duty
One word to summarise your aim for the conference: Social
Name: Gary Brown
Role on the committee: Keynote sessions
Organisation: ONS
Location: Newport
One word: Dad
Interesting fact: Weight charts categorize me as obese
Hobbies: Kids
Favourite film: The Searchers
Favourite book: Decline and Fall (Gibbon)
Favourite pastimes: See photo (3 clues)
Favourite sports team: MUFC
Favourite sporting moment: Maradona's 2nd goal
Personal Mantra: Fortuna favet tibi
Aim for the committee: Unity
One word to summarise your aim for the conference: Fun
Name: Karim Secker
Role on the committee: Keynote sessions
Organisation: Department for Trade
Location: London