This item is archived. Information presented here may be out of date.
A message from new National Statistician Sir Ian Diamond on his first day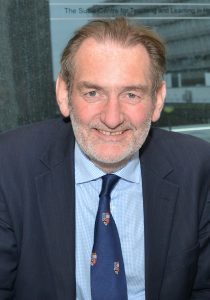 On 6 August my inbox exploded. Messages of congratulations from friends, family, former and future colleagues. I also received seemingly endless requests to meet up and talk. Needless to say that the almost endless opportunities that this role presents expanded even further with each email that I received.
As I take up my position as National Statistician, I want to start by listening and have spent the time since the announcement of my appointment doing so. I have met a range of colleagues at all levels, in big groups, in teams and individually.
I have joined meetings of GSS Heads of Profession and been to speak with statisticians in Scotland, Wales and England with a trip to Northern Ireland planned in the New Year.
I finish this set of meetings enthused, impressed and inspired by the professional and dedicated people that make up the GSS.
I have also sought to spend time during the last few weeks hearing what our customers want from us. I have met my counterparts across government, politicians, partners in sister analytical organisations, journalists and many more. What we do matters to them.
There is a strong will for us to succeed both inside and outside. Across the GSS there are many examples of excellence. We have great commitment and deliver an enormous amount of high-quality work often in highly demanding circumstances. There is an eagerness from us all to learn and improve.
At the same time, we need to have a programme of development to match our ambition. At the moment, governance can be seen as a blocker rather than a way for good decisions to be taken. Decisions can be sucked upwards for fear of making a mistake. There is still a way to go before we can really say we are customer focused. Statisticians across government are in high demand but are not always well placed to make an impact at the strategic level in departments.
There are also too many silos, within the ONS, between the ONS and the GSS, between statisticians and others in the analytical community. We must have confidence to step up and provide analysis and advice to the best of our collective abilities.
My overriding feeling is excitement. I truly believe that there is no job in the UK which can have as great an impact on everyone's life as this one, and that applies to all of us; we all have a part to play in helping Britain make better decisions.
There is no part of our day to day lives where the statistical system has had no impact. When you send your children to school, there is a place because official statistics informed where school places need to be. When you take the train, statistics have been used to work out commuting flows so that there will be a seat. When you turn on the television and the news is on, I struggle to find any story which cannot be informed by an output from the GSS.
I am excited to be able to lead the statistical system in this next stage of its development. But we are in this together and, as I see it, part of my job will be enabling us all to have the tools, skills and processes to do more of the great things I have already mentioned; I need your help and will be asking for your views as we formulate our next strategy.
There will be many challenges and, I hope, successes ahead. I look forward to the support of colleagues as we work together to provide the statistics that we all need to inform the decisions we need to take.