Gillian Docherty announced as a keynote speaker for the GSS Conference 2019
We are pleased to announce that Gillian Docherty will be joining us at the GSS Conference 2019 to present a keynote speech on the final day of the conference.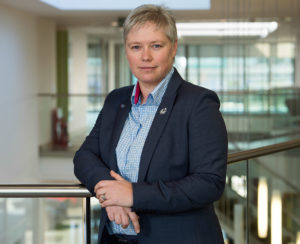 Gillian is the chief executive (CEO) of The Data Lab, an innovation centre with a mission of maximising the value from data for Scotland. The Data Lab facilitates partnerships between industry and academia, supporting data science and Artificial Intelligence projects as well as funding and running ground-breaking education programmes.
Gillian is passionate about the opportunities for using data to drive economic and social benefits. Formerly of IBM, she is a visiting professor at Robert Gordon University, a TED speaker and was named Digital Leader 2018 for the UK.
She was named CEO of the year at the Digital Technology Awards 2017 and was also in the UK's top ten most influential people in data according to DataIQ. She is on the Board of Glasgow Chamber of Commerce, a trustee of BeYonder Involve Charity and an Industry advisor to Previse. She has a degree in Computing Science from the University of Glasgow, an honorary doctorate from Robert Gordon University and is married with a daughter.
We will be announcing the final keynote speakers in the coming weeks so keep a lookout for further news articles and add yourself to the #gssconference2019 channel on the GSS Slack workspace for updates. The conference event page  also contains up-to-date information on conference arrangements, speakers and awards.