John Curtice announced as the final keynote speaker for the GSS Conference 2019
We are pleased to announce the third and final keynote speaker for the GSS Conference 2019 – John Curtice.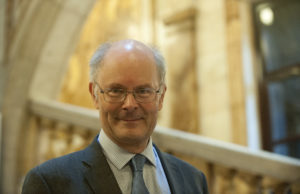 Sir John Curtice is a Professor of Politics at Strathclyde University in Glasgow, a Senior Research Fellow at NatCen Social Research and a Senior Fellow of the ESRC's 'The UK in a Changing Europe' initiative.
He has written extensively about voting behaviour in elections and referendums in the UK, as well as on British political and social attitudes more generally. He has been a co-editor of NatCen's annual British Social Attitudes reports series for over twenty years, and is a regular contributor to British and international media coverage of politics in the UK.
Curtice is Chief Commentator at two websites, whatscotlandthinks.org and whatukthinks.org/eu, that provide a comprehensive collection of materials on public attitudes towards how Scotland should be governed, and the UK's relationship with the EU. He is a Fellow of the British Academy, the Royal Society of Edinburgh and the Academy of the Social Sciences and is an Honorary Fellow of the Royal Statistical Society.
John will be giving the keynote speech on the first day of the conference.
We will be announcing more information in the coming weeks so keep a lookout for further news articles or add yourself to the #gssconference2019 channel on the GSS Slack workspace for updates. As well as this, the event page for the conference contains up-to-date information on conference arrangements, speakers and awards.