Refreshed GSS website – a first look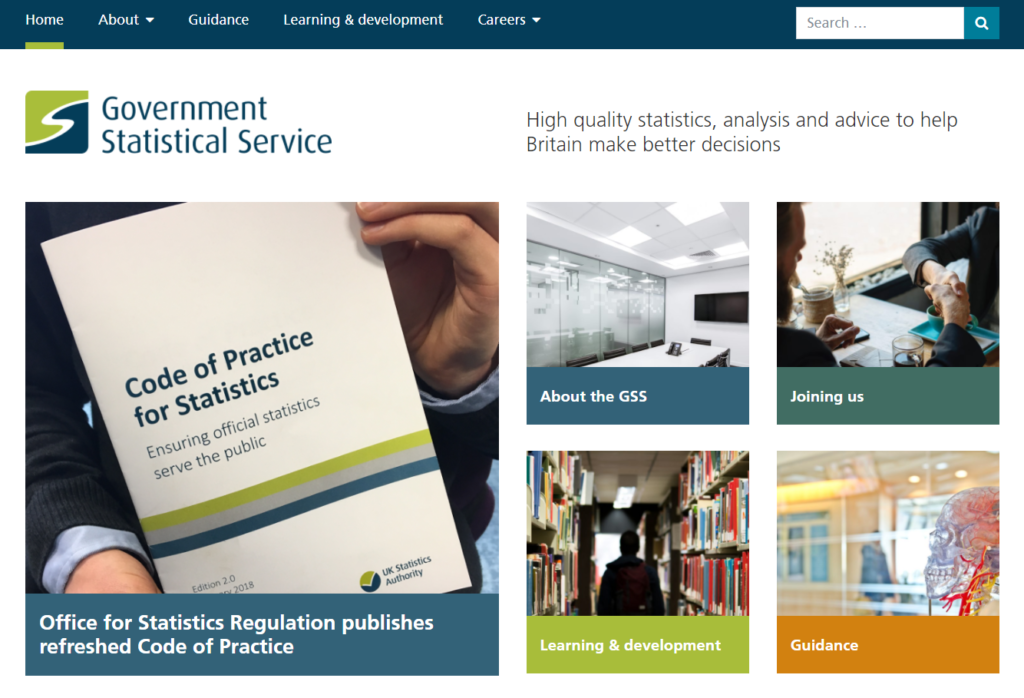 The Good Practice Team's (GPT) work to refresh the GSS website has reached a significant milestone last week, as we received an initial prototype of what the future version of the site could look like.
So here you are…an exclusive first look!
We've listened to all your feedback over the last year or so with the overarching principle of the site to be "an Intranet for the GSS".
This means you'll always have the latest News, Blogs, Vacancies, Training, Guidance – all available quickly and easily with minimal clicks from the homepage (no more long complicated drop down menus!) We are also looking to make use of existing technology wherever possible, which helps us stay within the modest resources available.
So what else is new?
GSS Policy Store – a test version is there for you to see. This will be migrated from the UK Statistics Authority website when we launch, so you've got a one-stop-shop for all the latest GSS policies and guidance. Let us know what you think!
Featured homepage items – feature boxes and listings are prominent, so the latest news from across the GSS is always at the forefront – does this work for you?
Related content – we've got the ability to tag related content to pages – finding that new role or good practice guidance should feel much easier!
Filter boxes – News, Blogs, Events and Vacancies are now filterable by key information. Want to know what's happening in London this month? No problem! Looking for a role in Leeds? All current vacancies in one helpful list!
Is there anything else I need to know?
You might notice that the new site won't require users to register an account – a much requested improvement! In preparation for this we will no longer be accepting new registrations for the current site.
We propose to move our current newsletter format to Mailchimp over the next couple of months. We are asking all GSS colleagues to sign up for the mailing list now in readiness for the changeover – don't worry, we won't bombard you with lots of additional emails!
The great benefit for you as a user is that you can choose if, when and what you receive from us.
When will it go live?
Whilst we can't say for certain, if we're on the right lines following the user testing, we will hope to make the refreshed site live at the end of March or early April – watch this space!
What's next?
We begin user testing this initial version in Newport this week and London next week. We will also be visiting various departments, networks and committees to discuss progress and get your feedback.
We hope to make the refreshed site live by early April
If we've forgotten something, you'd like to give us some feedback or you'd like us to come and talk to you in more detail about the site, we'd love to hear from you! This is your site and we want it to work for you in your day to day role.