Roger Halliday welcomes the GSS Conference 2019 to Edinburgh
Hi everyone, I'm Roger Halliday, Chief Statistician and Data Officer for Scottish Government.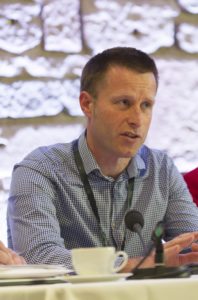 This means I'm responsible for the quality and trustworthiness of numbers that come out of the Scottish public sector, and for getting value from the data that underpins these statistics by setting policies and approaches used across Scotland.
We have a large and vibrant statistical community, both in government and across the Scottish public sector, with hundreds of statisticians helping us to understand how we reduce inequalities through improved wellbeing, both as part of analytical teams in government and supporting delivery of vital public services. Statisticians are at the heart of driving this through a shared, evidence based approach to public policy: our National Performance Framework, with indicators of economic, social and environmental progress.
For example, the majority of health and care statistics are produced by a body called Information Services Division (ISD) Scotland, which is based within NHS Scotland. ISD is an arm's length body, and are very much a part of the GSS landscape.  It employs around 700 people (inc 300 statisticians) mainly based in Edinburgh and Glasgow, but also works across the country with staff based locally to support clinicians, managers and policy makers in their use of data and statistics. Over the next year ISD is moving into a new public health body called Public Health Scotland. Importantly, the new organisation will use data and intelligence to drive improvements in public health, and tackle inequalities. You can hear more about this at the conference.
You may not know, but while the Department for International Development (DFID) has a global footprint, employing around 70 statisticians living and working from Afghanistan to Zimbabwe, their largest office is in East Kilbride near Glasgow. Sitting under the DFID Chief Statistician, Neil Jackson, DFID statisticians lead on meeting the data and statistical needs of the organisation – for accountability, communications and decision making across the "5 P's" of sustainable development: people, planet, prosperity, peace and partnerships.  The challenges around producing robust statistical outputs in DFID are wide ranging and in addition to the first-class technical skills we all need, our statisticians complement with expert knowledge of the international development sector, and a healthy approach to innovation! The very nature of the countries supported by UK aid means that "normal" practices around the collection and publication of official statistics can be difficult to implement. DFID statisticians tackle these challenges whilst working to build capacity within local offices, delivery partners and governments. This helps ensure that as we support counties on their pathway to prosperity, they have strong and stable societies built around a robust data and statistical infrastructure.
Being a smaller nation, Scotland has a reputation for being able to move quickly and innovatively on issues, and that's true with statistics: from our data comic, recent award-winning predictive analytics work on homelessness, or synthetic data. It also means we are working closely with Ministers, more collaboratively across organisations, and closer to decision making than I was used to working in Whitehall.
All this means there are some fantastic jobs and career opportunities across the 30 or so statistics producers in Scotland. If you're interested in discussing further, get in touch (roger.halliday@gov.scot or p-mcleod@dfid.gov.uk).
I'm delighted to be welcoming GSS members to their annual conference in Edinburgh.  It's a great city and we're sure you'll have a brilliant time experiencing all the hospitality that Scotland has to offer.
Please see the conference event page for up-to-date information on conference arrangements, speakers and awards.