Statistics Korea delegates impressed with latest ONS developments
The Learning Academy recently welcomed a delegation from Statistics Korea, who visited the ONS London and Newport offices from Wednesday 6 to Friday 8 June.
The purpose of the visit was to learn more of the UK's statistical system, procedures for approval of national statistics, and methods of reviewing quality. Delegates informed us that ONS is held in high esteem which is why they were keen to visit us.
Statistics Korea are switching to an admin data census in 2021, so there were lessons to be learned for us too. Oh, Jung-Wa informed us that the delegation regarded their visit as a success. She said they were "impressed with the latest developments ONS is pursuing," adding "the visit was a really useful update on the latest thinking."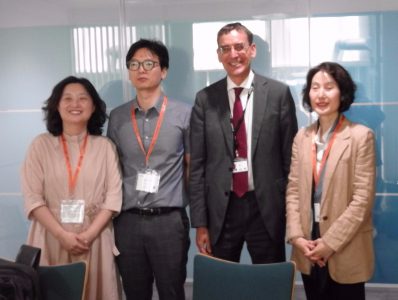 A bespoke programme of engagement was designed around three desired learning outcomes:
Understanding the UK's official statistical system.
Procedures for approval of national statistics in official statistics.
Method of reviewing official statistical quality by new methodology including experimental statistics.
A collaborative effort from across the office helped provide what was required, which included sessions on the Digital Economy Act, new methodological approaches, the regulatory framework, the art of the possible in data science, statistical quality and experimental statistics.
Special thanks go to Ross Young, Mary Gregory, Penny Babb, Charles Lound, Rachel Skentelbery, Dan Lewis, Jennifer Davies, Ceri Regan, Dave Stephens, Jo Green and our National Statistician John Pullinger.
For information please contact  Paul Littler, Head of Learning Academy.