Introduction
This guidance sets out principles to consider when using infographics to share data insights.
It is for anyone involved in analysis across government.
Back to top of page
What is an infographic?
Infographics use charts, timelines, maps or other visualisations to provide engaging explanations of data.
They should tell users the story without needing lots of extra information.
Infographics can be effective but are difficult to do well.
Back to top of page
Should you use an infographic?
When used well, infographics:
help to explain difficult messages
make stories more memorable
promote your work
are likely to be shared and re-used
However, sometimes, a different format would be better. For example a simple chart or text could be clearer and more accessible for your users.
Considerations
We encourage you to use infographics sparingly and appropriately and to consider the following:
1. Departmental policies 
There are different processes for creating infographics across different government departments. Consider your departmental policies alongside this guidance before opting for an infographic.
2. Users
User needs should be at the core of all decision making around output design. Always start your design process with the user in mind. Understanding how your data is used is key to determining whether an infographic is appropriate.
Share your data in formats which your users can understand and use. If you have lots of information to communicate, an infographic is probably not the best choice. You should seek insight and feedback from your users and respond to their needs.
3. Analyse your data
Before deciding on a visualisation method ask yourself:
what is the data story?
what do users need to know and understand from the data?
what is the best method for getting my message across?
4. Use appropriate visualisations
When using charts, graphs and tables in your infographic:
choose the best chart types for your data
maximise data to ink ratio – only add information if it adds value
use accessible colours
5. Work with others
The best infographics need a team of people to produce them, including designers, analysts and press office colleagues.
To create an infographic that really delivers impact requires skills that take years to build to a good standard. Designers will have gone through extensive training and use specialist software in order to produce effective infographics.
If this is not done correctly, it could result in a poor or misleading infographic that could potentially damage reputation of your department. This is something that we are trying to guard against.
6. Consider the value added
Producing high-quality and consistent infographics is not easy. It requires people who are trained in appropriate software and data design. It may not be appropriate to invest time in this if the demand and use is low.
Investigate your website analytics to see how much demand there is for your content. Set some expectations and goals ahead of time for what would constitute value added, and regularly review.
7. Accessibility
Your outputs must be accessible to everyone who needs them. This means you need to think about how users might access and use your service before you design or build anything. Accessibility legislation requires that all government websites make content available in a format that meets accessibility standards.
Content in PDFs and image files don't usually meet these standards, so it's important to remember that anything included in an infographic is also available in an accessible format, like text or tables on a webpage. There is more information around usability and accessibility available on the Government Digital Service (GDS) website. You can also find more out about the W3C standards.
Accessibility considerations to think about:
have you tested if your content is machine readable?
can your content be re-sized or re-ordered to allow it to be viewed on a range of devices including mobile?
does your image meet contrast and colour-blindness standards?
8. Dissemination 
You must consider where you are publishing your infographic before you start designing.  Design choices should take into account how and where the infographic will be published. You also need to think about how you would expect a user to find an infographic compared to a traditional bulletin.
Remember that infographics published on a website, social media or in print may need different styles to be effective. It is also worth considering devices that your users will access the infographic on. Check your infographic will work on mobiles, tablets and different web browsers.
Back to top of page
Good practice example
Single point infographics are used to share one fact.
This type of infographic is used on social media or as part of a longer news article.
The Office for National Statistics (ONS) used a single point infographic to share a story related to birth characteristics in England and Wales for 2018.
Single point infographic about birthdays that fall on 29 February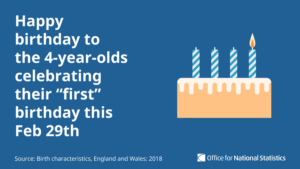 The infographic draws attention to the birth characteristics release for England and Wales and says 'Happy birthday to the 4-year-olds celebrating their "first" birthday this Feb 29th'.
There are various considerations that go into these, such as optimising the size of the image for various social media channels.
These single message graphics cater for a large audience of people who tend to be time poor on social media platforms. This means we want to give key information to users quickly and clearly.
They may also inspire people to look further into the data so ONS usually directs them to the related statistical bulletin.
Back to top of page
Good practice checklist
Consider whether an infographic is the best tool to use
Know your audience and purpose
Let the data lead the story
Focus on the key message
Collaborate with designers and press office
Keep the infographic as simple and as short as possible
For longer infographics make sure information is in a sensible order
Check compatibility and accessibility on websites and other devices
Choose the best chart types for your data
Maximise data to ink ratio – only add information if it adds value
Use accessible colours
Test your infographic with users – do others understand the story without explanation?
Back to top of page