Introduction to social media in the GSS: Good practice guidance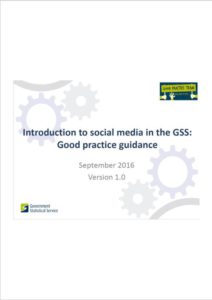 Purpose:
Social media offers the GSS a simple and inexpensive way to disseminate our statistics and gain helpful feedback from users.
This guidance has been developed by the Good Practice Team as an introduction to social media for members of the GSS. It is designed for departments who want to get started on social media but may also be helpful for departments already using social media.
This guidance has three parts:
Part 1 – looks at the benefits of having a social media presence, using real GSS examples.
Part 2 – is about getting started on social media, why social media is important and different ways to progress. This includes ways to work effectively with communication colleagues.
Part 3 – is about maximising the impact of your social media presence.
If you have any questions about the guidance please contact the Good Practice Team.
The Good Practice Team would like to thank James Twist, Amy Brockett and the members of the GSS Presentation and Dissemination Committee for input into this guidance.
Target audience:
Producers of Official Statistics
Policy details
| | |
| --- | --- |
| Version number: | 1.0 |
| Mandatory or optional? | Mandatory |
| Effective date: | 1 September 2016 |
| Frequency of review: | It is anticipated that the guidance will be reviewed and updated periodically, in response to experiences of using it as well as to reflect possible updates to the Code itself. |
| Primary contact: | gss@statistics.gov.uk |
| Author: | Central Policy Secretariat |
| Commissioner: | Karen Dunnell - National Statistician |
| Approver: | Karen Dunnell - National Statistician |
| Date of approval: | 1 June 2016 |
Version history
| | | | |
| --- | --- | --- | --- |
| | 1 January 1970 | | |
File

An-introduction-to-social-media-in-the-GSS-v1.0-4

Type

PDF

Size

2.20MB
Effective date

1 September 2016

Nature of document