Reporting breaches of the Code of Practice for Official Statistics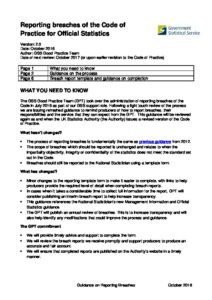 Purpose:
A breach is caused when an organisation producing official statistics fails to meet the standards outlined in the Code of Practice for Official Statistics. Reporting breaches means being open about mistakes and the actions being taken to correct them. It is important for building public trust in statistics, and for statistics producers to learn and improve from any mistakes.
If a breach occurs, the producer of the statistics will need to complete the Breach Report Template and submit it to the National Statistician by emailing goodpracticeteam@statistics.gov.uk.
Further guidance on when to report a breach can be found in the guidance document, or the summary advice on how to avoid common breaches.
Target audience:
Members of the GSS
Policy details
| | |
| --- | --- |
| Version number: | 3.0 |
| Effective date: | 22 February 2018 |
| Next recommended review date: | 22 February 2019 |
| Primary contact: | goodpracticeteam@statistics.gov.uk |