Housing and planning statistics
Statistics on housing and planning are vital for the UK. Are we building enough houses to sustain our growing population? Is housing affordable and how does this compare across areas? Can I afford a home locally? All are major questions for policy makers, the housing sector and private citizens.
Housing policy is devolved across the four nations of the UK. Over recent years, statisticians in each country have been leading developments which have had significant benefits for users. How does this all fit together though?
Statisticians from across government have begun a new initiative to improve the coherence of housing statistics currently published by more than seven different departments and public bodies. The new approach is designed to put the needs of users first. A Cross Government Steering Group has been set up across the Devolved Administrations (Scotland, Wales and Northern Ireland) together with the Ministry for Housing, Communities and Local Government, and the Office for National Statistics (ONS).
There are five key areas where we are collaborating across government, as described in our Housing Workplan (pdf, 190 KB) and Homelessness Workplan (pdf, 139 KB):
To improve coherence by developing a common framework for measuring the housing landscape.
To improve quality and coverage of existing statistics, including researching new data sources.
To harmonise data definitions used, where feasible and where there is a clear user need, taking into account costs and potential burden.
To improve data accessibility by addressing the lack of a single entry point to across government statistics generally.
To put all users at the heart of the system. Our User Engagement will focus on topics of interest across the UK. This will help in deciding priorities and allocating resources as part of our plans to meet the wide range of needs.
Looking to compliment the overarching workplan, statistics producers across the UK are forging ahead with various developments taking place at the working level, including taking actions in response to the issues highlighted by the Office for Statistics Regulation's (OSR) review of housing and planning statistics. We previously tracked detailed actions and progress in the HSWG action plan (doc, 35 KB), this has now been closed and our actions are now listed in our Housing Workplan (pdf, 190 KB) and Homelessness Workplan (pdf, 139 KB).
If there are areas where you think we can improve the quality and value of cross-UK housing and planning statistics please get in touch. We have recently run a survey seeking views on the work we are doing. Our survey closed at the end of May 2019, and we shared the key findings in a blog post.
Improving Harmonisation
Statistics producers across the UK are looking for opportunities to improve the harmonisation of housing and planning statistics. Differences are in part as a result of devolution and legislative differences across the four nations.
Homelessness is a devolved matter in the UK, which has led to differences in legislative and administrative data collection methods and multiple definitions of homelessness with limited clear guidance on comparability.
To help users compare official statistics on homelessness and rough sleeping, the GSS Harmonisation Team, in collaboration with the GSS Strategy Delivery Team, have developed the GSS homelessness statistics interactive tool. The tool provides comparison guidance, outlines the process a person may go through when seeking support for housing in each UK country, and shows how each country's statistics are collected.
For a more in-depth explanation of legislative and data collection differences, see the Harmonisation of Definitions of Homelessness for UK Official Statistics: A Feasibility Report (pdf, 605 KB), published by the GSS Harmonisation Team in February 2019.
Improving Accessibility
The decentralised nature of the UK housing and planning system means that different organisations produce statistics about different aspects of housing. To simplify finding housing statistics, the GSS Strategy Delivery Team has developed the GSS housing and planning statistics interactive tool. This tool lets users explore the landscape of housing statistics in the UK to understand what data is being produced; and to search a database of all official housing and plannings statistics. Previously this information was provided through an Overview of housing and planning statistics (pdf, 263 KB), and the UK housing and planning statistics (xls, 63.3 KB). The overview has now been discontinued but the guide will continue to be updated.
The overall picture of how many people in the UK are affected by homelessness is hard to calculate. The Government Statistical Service worked across departments and the devolved UK governments to better understand homelessness and some of the most vulnerable people in society. Our homelessness analysis brought together statistics from across England, Wales, Scotland and Northern Ireland for the first time, building a comprehensive picture of the data available and how they compare. We have also published a broader article that shows how analysts across the UK are working together to so that policy and decision makers have the statistics and evidence to support people when they need it the most.
Improving Coherence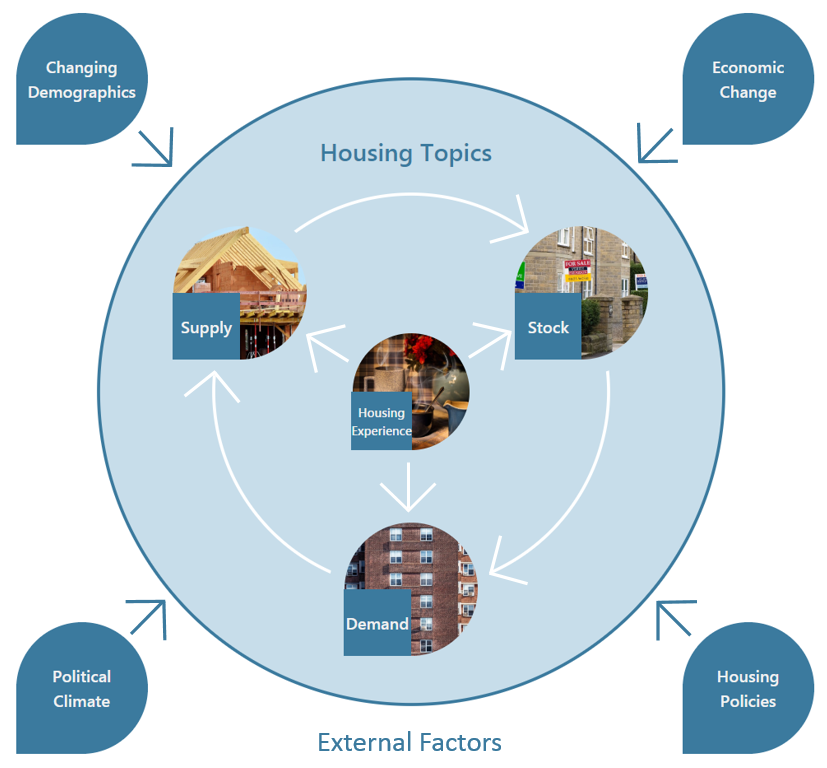 Additionally, this experimental UK housing and planning statistics framework conceptually illustrates which areas of housing and planning statistics may be of interest across the UK official statistics landscape. Many of these areas are already covered by statistics produced within each UK nation often with further detailed breakdowns available, for example by local area, tenure or type of housing. Beyond housing statistics there are also external factors of interest that could impact on housing demand, supply or stock, for example economic changes such as interest rates.
The GSS housing and planning statistics interactive tool is an interactive version of the housing statistics framework. This tool includes infomation on housing topics and links users to available statistics across the UK.
We would appreciate your feedback and suggestions on whether you find this conceptual framework useful and how it could be improved, particularly in terms of accuracy, accessibility or coverage.
Improving User Engagement
We are helping to bring users and producers of data closer together. We hosted a user engagement event in London during February 2019 focusing on the Private Rented Sector, this event had over 100 attendees and included speakers from ONS, MHCLG, devolved administrations, academia and charities. The slides from the user engagement event in February 2019 (ppt, 16.3 MB) have been published online.
To further improve how we engage with users, we have published a Cross-Government Housing, Homelessness, and Planning Statistics User Engagement Statement (pdf, 119 KB) for 2020. This sets out how we will engage with our users and provide a reference point for statistical producers to help shape their own user engagement work.
Contact
We are interested to hear from you, so if you have any suggestions for where or how housing and planning statistics could be improved please contact us.